AMSOIL Motorcycle Oil
Amsoil synthetic oils exhibit higher HTHS viscosities than competing conventional and synthetic motorcycle oils. Undoubtedly Amsoil outperform its competitors.
As seen in the graphs, AMSOIL Synthetic 20W-50 and 10W-40 Motorcycle Oils displayed the highest High Temperature/High Shear viscosities in their respective test groups, providing motorcycle engines and transmissions operating in the harshest conditions with superior protection against wear and viscosity loss and eliminating the need for separate gear case oils as recommended by some competitors. Synthetic 10W-40 may also be used in two-cycle transmissions.
Excellent Wet Clutch Performance
We supply the best quality AMSOIL Synthetic Motor oil which doesn't contain any friction modifiers. These oils are best for positive clutch and promoting smooth shifting. They not only control heat, but they also prevent glazing and slippage. By using these oils, the life of the clutch can be improved as it they meet the clutch compatibility requirements mandated by JASO MA.
Excellent Corrosion Protection
Our Amsoil 20w50 Motorcycle Oil shows no sign of corrosion and rust as it is formulated with specialized additive technology. These oils not only protect at storage time, but they also protect against acids and corrosion during operation. Hence, you can be relieved that your engine will remain in top-notch condition for a long time without hints of any damage.
Outstanding Heat Resistance
AMSOIL synthetic engine oil is very beneficial for hot-running air-cooled motorcycle engines. These engines have a high temperature when they are idle in traffic. In common, they reach temperatures up to 240 degrees Fahrenheit.
Robust Additive Levels
Including the anti-wear additive ZDDP, AMSOIL Synthetic Oils are recommended for on-road bikes. ZDDP is a very effective anti-oxidant and anti-wear which minimizes its level results in compromised shortened service and wear control. These oils are overtreated with the best additive packages such as high levels of zinc, calcium, phosphorus and other oxidation inhibitors for extending oil life expectancy.
AMSOIL Synthetic Motorcycle Oils are recommended for twice the manufacturer's recommended drain interval for on-road motorcycles.
The Four-Ball Wear Test (ASTM D-4172) determines the wear protection properties of a lubricant. The smaller the average wear scar, the better the wear protection provided by the lubricant. AMSOIL Synthetic Motorcycle Oil produces significantly smaller wear scars than competing motorcycle oils, providing unsurpassed protection against engine wear, reducing maintenance costs, and extending equipment life.
Cost Effective
We offer top-quality AMSOIL Synthetic Motorcycle Oils with cost-effectiveness to competing with other motorcycle oils. These oils provide the best performance and unmatched protection to luxury bikes and custom motorcycles.
10W-40 Synthetic Motorcycle Oil (MFC) is recommended for motorcycles calling for a 10W-40 or 20W-40 viscosity

BMW
Suzuki
Yamaha
Kawasaki
Honda
KTM
Husqvarna
20W-50 Synthetic Motorcycle Oil (MVC) is recommended for motorcycles calling for a 15W-50 or 20W-50 viscosity
Buell
Harley-Davidson
Aprilla
BMW
Triumph
Victory
Ducati
Amsoil V-Twin Motorcycle Oil Change Kit (HDCK)
AMSOIL V-Twin Oil Change Kit (HDCK) 10W-40
The AMSOIL V-Twin Oil Change Kit (HDCK) includes the following:
(5) quarts of AMSOIL 10W-40 Synthetic V-Twin  (MFC)
(1) chrome/black
(1) drain plug O-ring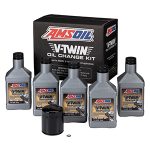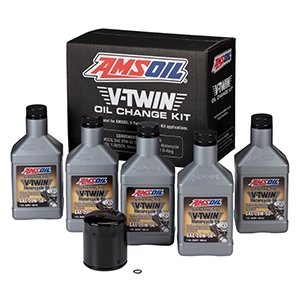 Amsoil 20w50 Motorcycle Oil
AMSOIL V-Twin Oil Change Kit (HDMB) – available in chrome
The AMSOIL V-Twin Oil Change Kit (HDMB) includes the following:
(5) quarts of AMSOIL 20W-50 Synthetic V-Twin (MCV)
(1) Black  Oil Filter (EaOM134)
(1) drain plug O-ring